Frog Fortunes Slot Review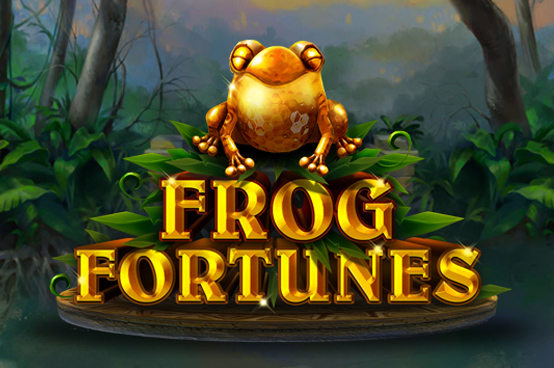 RTP: 97.5%
Provider: RTG slots
Volatility: Medium
Freespins: Yes
Jackpots: No
Paylines: 243
Number of Reels: 5
Frog Fortunes may have a name that is similar to other slots but it has its own unique look and feel. The first thing you might notice is the large golden frog followed quickly by the unusual slot reels. While the reels operate in the same way as other slots, they have a more interesting appearance with hexagons tiled together.
Although the appearance of this slot creates more interest it does operate just like a standard slot game. It will not take you long to get used to the unusual reels. This Realtime Gaming (RTG) slot takes you deep into the rainforest. This enchanting forest is the perfect place to spin the reels as the golden frog looks on. The background music is quiet and exciting so you might want to leave your volume turned on as you enter the forest for an adventure.
The slot does not have wilds and scatters as we are used to in most of the slots we see. This does not affect winning since it has its own special features. The game has five reels with three rows with trees and foliage in the background. The large golden frog lord faces us from just below the reels looking very pleased with himself. It appears that the frog sits in the center of a fountain in what was likely once an ancient temple of a long lost civilization.
Frog Fortunes is played on 5 reels with 3 rows. The game has 243 ways to win. Symbols on the reels include animals as you might expect to see them as idols or carvings from days gone by. The images include likenesses of forest birds and animals in purple, pink, green and gold. In addition to that, there are gemstones in blue, green, pink, and red. The one surprise symbol is the exploding bomb that helps players get more wins.
While the game does look more unusual or complicated at first, the gameplay is simple. In fact, it is easier to play than many other slots since there are no free spins or special choices you need to make. You can win a 150x payout on the purple bird-like symbols when you see 5 of them on the reels. However, at times there are cascading reels that result in additional payouts from the same spin.
Frog Fortunes comes from Realtime Gaming (RTG), the gaming software provider that is well known to those who play in online casinos. RTG has extensive experience in the online and mobile gaming industry and is often available as the only software provider in online casinos. The gaming software developer releases a number of slot. Along with the extensive slots gaming suite RTG also creates video poker games, roulette, card and table games and progressive jackpot games. Players around the world enjoy RTGs virtual casino games.
Play Frog Fortunes For Free (No Download & No Deposit Needed)
Software developers market their games in various ways. One of the best ways for players is the option to play new games in fun mode. In fact, some casinos always offer fun mode on slots while others might offer it only on new slots. This allows players to try before they buy. While a new game may look appealing you might find that there are some slots you enjoy more than others. Try out new games for fun money rather than real money while you decide how much you like the game.
You can decide if you prefer to first try out a game in fun mode or start playing with real money immediately. However, there are some good reasons why it is better to try out a game in fun mode first, especially if you play regularly. Since each slot has its own special features and design, it is worth understanding how a game works before betting real money. The type of slot may affect your betting or coin sizes.
Frog Fortunes is a fairly simple slot to play although there are others that are much more complicated. Check out this slot so you can make the right betting decisions for you when you are ready to play the game for real money.
While you can get a good amount of information from objective reviews such as this one, the only way you can really find out about a game is by playing it. Reviews do not take into account a player's personal preferences when it comes to playing slots. What is important to one player may be of little importance to another. When you play in the free or demo mode, you get to make this decision yourself. Fun play is also great entertainment for those who do not wish to gamble real money.
You can try out Frog Fortunes on this site without registering with an online casino or opening a real money online casino account. Simply click on the game demo mode, choose your fun money bet and spin the reels. You can also find out more about the slot by looking at its paytable information.
One very important feature of new slots is that you can play it while on the go. If you cannot play on a mobile device it really is not worth much. Frog Fortunes is available for mobile play since RTG programmed this slot with HTML5 technology. HTML5 is compatible with mobile devices like iOS and Android smartphones and tablets. The technology allows the game to restructure itself for play on different devices and different sized screens. This allows you to play the same game on your PC, smartphones and tablets maintaining quality even on smaller screens.
You cannot download Frog Fortunes in order to play while you are offline. You can only play this game through your browser on your chosen devices. The game plays on all the major browsers such as Chrome and Firefox for Android users, and Safari for iOS users. Simply launch your browser, log into the casino site and select the Frog Fortunes icon. Make sure you have a good internet connection when you play on your mobile device so that you do not disconnect during a winning spree.
1
300% Up To R6,000
+ R300 Free No Deposit Bonus
2
750% Bonus & 110 Free Spins
+ 25 Spins On Signup
3
R75,000 Welcome Bonus
+ 25 Spins No Deposit Bonus
How to Play Witchy Wins
Frog Fortunes plays on 5 reels and 3 rows. Since the game is a 243 ways to win slot you do not need to select the number of paylines you wish to play. Symbols include four animal icons, four gemstones and a bomb. Check out the value of each of the symbols on the game's pay table.
When you are ready to play select the bet size per spin. The betting range runs from $0.25 up to $25 per spin. You can adjust the size of the bet by clicking on the + and – symbols next to the spin symbol. Spin the reels and get wins from the left to the right. When you hit winning combinations this is reflected in your balance. If you do not win the amount you bet on the spin is taken away from the balance.
Fortune Frogs only has one real game feature that comprises of two parts. There are no wilds, scatters or free spins rounds.
Frog Fortunes Features
Frog Fortunes has one main special feature. The exploding bomb feature gives you a chance to win more. In addition to this, when there is a win with the exploding bomb, the cascade feature comes into effect.
Exploding Bomb Feature
The Exploding Bomb appears randomly on the reels. It appears fairly often. This feature can appear anywhere on the reels. It does not appear during the cascading reels feature. When the bomb appears, it explodes randomly in one of the 8 preset blast patterns. All symbols that are blown up disappear and are replaced with a randomly selected symbol. All the replacement symbols are the same. If there is a winning combination on the reels, you get a payout and the cascade feature kicks in.
Cascading Reels
While there are some slots that have cascading reels for every spin, this slot does not. This feature appears when there is a win after the Exploding Bomb feature. The winning combination seen on the reels disappears and new symbols drop down into the empty spaces. If another winning combination appears, you get another win. This continues until there are no winning combinations.
Progressive Jackpots.
Frog Fortunes does not have a progressive jackpot feature. However, the cascading reels feature can result in multiple wins on the same spin.
Verdict
Frog Fortunes is another winner from RTG. The slot is definitely a simple one so if you prefer many special features and a plot twist, this is not the slot for you. For those who enjoy an easy-to-play slot with good graphics, a bit of animation, and a good soundtrack, this game is for you. This is a game you can sit and relax to in between other more complex casino games. The exploding bombs and cascading reels create enough excitement to make this 243 ways to win slot worth playing.