Trigger Happy Slot Review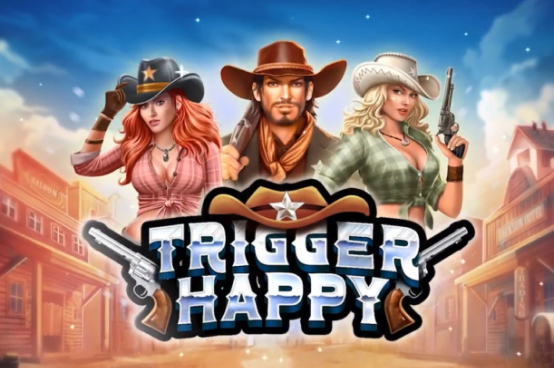 RTP: 95.64%
Provider: Realtime Gaming
Volatility: Medium
Freespins: Yes
Jackpots: Yes
Paylines: 30
Number of Reels: 5
Trigger Happy Slot Summary
Realtime Gaming needs no introduction in the world of online casino gaming. They make some of the best online slots games out there, period. It's no surprise that their latest offering is a real smart one, with a design theme that has a universal appeal.
The Wild West is a genre that transcends time. With its stories of fearless cowboys, legendary outlaw gunslingers, utter lawlessness, and of course, hot dames, the genre has thrived over decades and is showing no signs of losing appeal even in the 21st century.
The success of shows like West World and video game series like Red Dead Redemption tell us that people still love a good old cowboy story. RTG is trying to tell one such story set in a dusty frontier town, with you the player in the role of a cowboy in the hunt for riches.
To help you out in this perilous quest, you have two buxom cowgirls, one hot blonde, and the other a feisty redhead! These two provide the main bonus features in this slots game from RTG. The design is pretty and the graphics are of a quality that we have come to expect from high-end slots games in 2019.
What would have made this the perfect package though, is a tie in with an established Wild West-themed franchise like West World or Red Dead. But unfortunately, that is not one of the strong suits of RTG. While they usually make outstanding games, they lack licensed titles based on popular franchises.
But for a generic title, Trigger Happy does provide a whole lot of fun. It as an RTP value somewhere between the 95 – 97% area, which is pretty darn good. The game was announced for release in the end of March 2019, making it one of the latest releases of this year. It does boast of a progressive slot feature.
PLAY TRIGGER HAPPY SLOT FOR FREE (NO DOWNLOAD & NO DEPOSIT NEEDED!)
The slots genre is the most crowded category in the online casino business, with thousands of titles new and old jostling for the player's attention. You need smart tactics to get a new game noticed in this crowd. And RTG has done it right by providing the option for free play along with Trigger Happy.
Finding a free mode for this game is quite simple. Just check out the icon for the game by highlighting it with your mouse cursor or touch input. If the casino has a free to play option, it will be mentioned along with the play for cash option.
If you are new to online casino gaming, many casinos even allow you to try their games for free without registering. This is a great way to get a taste of online slots gaming. Now you can try even the latest games like Trigger Happy for free in this manner!
You don't have to spend a single cent to play Trigger Happy in free mode. The game will assign you dummy credits in either Euros or Dollars. You can use the credits shown on screen just as you would in real cash game – bet on the slots with it!
The whole system is designed to give you an exact replica of real money play, without the real cash of course. You can experience the disappointment of losing, and then the real amazing thrill when you win big! But on the downside, any winnings that you make in free play are like the credits you used to win them – fake! You will not be able to cash out those winnings.
But that is a reasonable tradeoff to make, all things considered. You get to spend some fun time for free and learn the ropes of the game as well. This will only improve your chances of making a killing when you actually start playing the game for cash later.
1
R11, 500 Welcome Bonus
+ R500 Free No Deposit Bonus
2
200% Signup & 100% Cash Back Bonuses
+ R400 Free No Deposit Bonus
3
200% Bonus & 50 Spins
+ R350 Free No Deposit Bonus
HOW TO PLAY TRIGGER HAPPY SLOT
Trigger Happy is a very modern slots game with all the bells and whistles that players have come to expect from one in recent years. You can check out all those features and effects at any of the casinos on this amazing list that we have put together for your convenience right here.
Pick any one of those casinos, because they are all legit and offer your safe online gaming experience. Once you picked the casino, just click on the link. The game will load directly into your browser screen. If you are using a mobile, fear not, because Trigger Happy is 100% compatible for mobile play. It is 2019, and a casino slot game has to do that if it wants to prosper!
Once the game has loaded, pick a bet by using the coin value buttons on the screen. You can set it at the lowest or highest, it doesn't matter much if you are using the free play options. Games such as these provide you with a ton of virtual credits so that you can properly try out the game. But be careful when you are using actual cash though, duh!
TRIGGER HAPPY FEATURES
We have already explained the basic theme of the game. The casino screen has a classic Wild West Salon look, all done up in wood logs and planks. There are revolvers, cowboy hats, and sheriff stars featuring prominently in the background. The low-value cards have highly stylized versions of A, K, Q, J and so on, while the higher value ones have common western motifs like boots, horses, and cacti.
Coming to the special symbols, the two hot cowgirls steal all the attention with their sultry looks. There are five reels in Wild Trigger, and the two reels on the left and right are reserved for the cowgirl cards. The redhead is grouped on reels one and two, while the blonde will appear on reels four and five. They are the Wilds and Scatter symbols for this game and act as substitute for other low ranked symbols.
There is also a third special symbol, with the highly appropriate design of a sheriff's badge. The long arm of the law will trigger an extra 7 free games if the badge appears more than three times anywhere on the screen in a normal game. This is called the Trigger Happy feature
There are several ways in which the bonuses can trigger in this Trigger Happy feature. Here you can pick either of the two cowgirls during bonus games to score double wins. If you get three or more scatters during this phase, you get an extra five free games as well.
Both girls behave slightly differently when they are the featured card. The redhead can count for scatters once per reel, or she will cover the entire reel one during the free game. The blonde on the other hand, can either cover a single reel (the fifth one) or even cover both four and five instead!
A lucky feature can also be triggered at the end of any random normal game in Trigger Happy slots. You stand a chance to win anywhere from 5-10 free games. You may also get the chance to play the Trigger Happy feature during these lucky games.
PROGRESSIVE JACKPOTS
There are two major jackpots associated with Trigger Happy. The major one is reset at $1000, while the minor one has a top end of $250. The jackpots are passive and triggered at random during the game. They can be won at the conclusion of any round in Trigger Happy, but the contribution is usually no more than 1.5% of the TRP.
VERDICT
Trigger Happy is an excellent new online slots game from RTG. They have successfully managed to maintain the high quality that we have come to expect from their games. With the right mix of bonuses and cool features, this game is a great option for lovers of the Western genre.