Jackpot Giant Slot | Enjoy Free Spins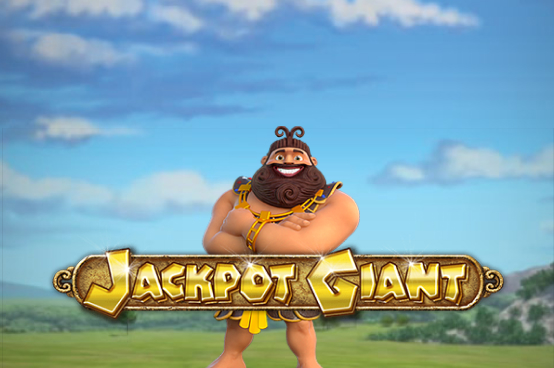 RTP: 94.22%
Provider: Playtech
Volatility: Medium
Freespins: Yes
Jackpots: No
Paylines: 50
Number of Reels: 5
Jackpot Giant Slot Summary
Jackpot Giant is one of a kind as far as slots go. When we feel happy about a new or interesting theme, it usually ends up being a sense of relief that it isn't yet another game that overdoes an Irish or an Oriental theme. However, we can clearly say it is quite unique here – how many titles have you played that star a giant from the prehistoric era using volcanoes to create massive wealth that launches from its rooftops? Credits to Playtech for that little bit of creativity, and pairing it quite nicely with a five reel, 50 payline slot which foregoes ordinary things like free spins and multipliers, and leaves more room for progressive jackpots and volcano bonuses. The paytable is a bit on the tighter end, but it doesn't end up being too much of a problem in the long run.
PLAY JACKPOT GIANT FOR FREE (NO DOWNLOAD & NO DEPOSIT NEEDED!)
Play Jackpot Giant slot game for free, right here on our website (No Download Necessary & No Deposit Needed). Increase or decrease your bet and change the number of lines. When you're ready, hit the "Spin Button". Enjoy!
1
200% Signup & 100% Cash Back Bonuses
+ R400 Free No Deposit Bonus
2
R375 Free No Deposit Bonus
+ R24,000 Welcome Bonus
3
100% up to R4000
+ 200 Free Spins
How to Play
This Playtech release doesn't go too far to reinvent the wheel. You will find low paying poker card icons, paired with unique artwork like the giant, coloured crystals and the various bonus symbols that all pay much more. While there are three different special icons, only one of them has a feature tied to itself. Wilds exist to grant you the jackpot, both fixed and progressive. In fact, in order to qualify for the progressive jackpot, you have to pay on the highest bet level, which will end up being R40, next to nothing compared to how much it can reward. However, if your five-of-a-kind Wild didn't get the biggest prize, you still score R2,000,000, a x50000 increase! The 50 paylines are fixed, and your minimum bet is only R5, so you can see that this particular game is aimed to high rollers more so than the casual player, with the focus on hunting down the progressive jackpot being quite clear.
Special Features
Nowhere is this clearer than with special features. As we mentioned, Wilds are there to activate the two jackpots, but there are also a Scatter and a Bonus symbol present. Scatters don't do anything, they have a lacklustre win that doesn't require them to follow a payline to be granted. Scatters without a bonus tied down to them can feel a bit disappointing, and that continues to prove true here.
The second bonus you can unlock is triggered by the Bonus icon. If it appears on the first and fifth reel somewhere, the giant will allow you to pick three of the six large volcanoes around. Each volcano has a cash prize associated with it, and how much you get is entirely random. You can occasionally get a Extra Pick or Pick 'Em All from one of the volcanoes. The first is simple enough, and allows you to pick one more volcano, while the second one grants you the reward from all the volcanoes.
The absence of free spins is clearly visible here, as the volcano instant win feature just isn't up to snuff to replace it. Then again, Jackpot Giant does make it quite clear in the name itself what you're supposed to be gunning for – jackpots, not regular wins or special features. While Playtech does have a habit of keeping the important wins hidden underneath hard to reach jackpots and bonuses, taking out the second really messes up the enjoyment of it all.
Verdict
Jackpot Giant comes into the whole thing well aware of what it wants to do. It wants you to chase the large progressive jackpot, and the rest of the slot is just salad dressing that tunnels you towards that particular goal. That said, this might have worked before, but it doesn't really work anymore. Not when Playtech's own Age of the Gods does it so much better, giving you impressive wins outside of jackpots and even during normal gameplay from time to time. Too much was taken out, one special feature doesn't really feel like it's enough, no matter how lucrative it may be. There are good sides to the game as well – there is a undeniable charm to it, so if you like pretty graphics, Playtech has you covered as always. The stacked Giant icons can really change things up occasionally, but not enough. In fact, we do feel like that is our opinion on this whole release. Great, but not enough of it. Our rating: 78/100