Dr.Winmore Slot Review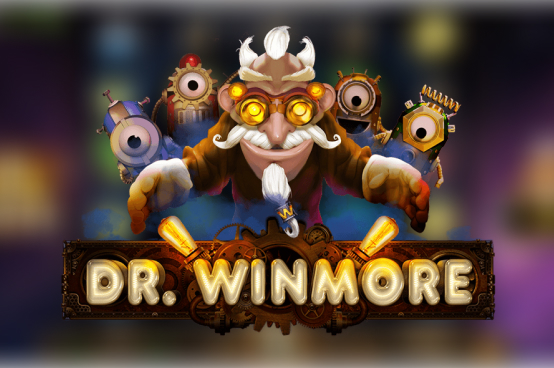 RTP: 0%
Provider: Realtime Gaming
Volatility: Low
Freespins: No
Jackpots: No
Paylines: 30
Number of Reels: 5
Dr. Winmore Slot Summary
Introducing Dr.Winmore – RTG's latest slot launch with a very interesting theme. This online slot is themed around a crazy scientist/genius kind of doctor who is all about his other-worldly lab experiments. The theming is derived mostly from some early adaptations of mad scientist characters such as Dr. Frankenstein.
The slot essentially takes you into Dr. Winmore's highly – secretive labs and that is where all the fun unfolds. You see electric blue sparks flying off in the background sporadically with buzzing sound effects to make things a little more electrifying. The symbols in the game include lab apparatus such as beakers, test tubes, globes, cells, electric bulbs, etc. Like with any other slot, your objective is to get the symbols to line up and make a winning combination and you will win money when that happens. The background music brings about a sense of urgency in the player thanks to the erratic piano notes that flood over draggy wind instrument sounds. When you do land a winning combo, you will not miss it thanks to the sound effect that is triggered at this point. This sound effect is the eerie and almost mentally unstable laughter of none other than Dr. Winmore himself.
Being launched in February of 2020, this is one of the latest slot games from RTG and it certainly is an upgrade. It feels great, is high paying in terms of return to player percentage, has plenty of bonus options, has a captivating and thrilling theme. There is really not much you can complain about when it comes to Dr. Winmore slot.
PLAY DR. WINMORE SLOT FOR FREE (NO DOWNLOAD & NO DEPOSIT NEEDED!)
Realtime Gaming is no slouch, they have been around for many years and have been successful at what they do and for good reason. RTG not only makes state–of–the–art real money casino games, but they also strategize the launch and marketing of these games in the most effective and innovative ways.
Dr. Winmore slot, for example, has a practice mode at most of the online casinos where it is available. Practice mode is basically where you can play for free without having to lay down any real money bets. Understandably, when you play in the practice mode or 'play–for–fun' mode as it known in some casinos, your rewards are not going to be real either. You are simply playing with dummy credits and your winnings are also going to be dummy credits which cannot translate into real money.
So why play Dr. Winmore in practice mode? The answer is simple – you can get a feel for the game, the features, the different rules and regulations, etc. without having to risk any real money on the game. This way you also know whether you like the game and are willing to play the game for real money.
When you play in practice mode, you understand the workings of the game much better and you are not prone to unintentional errors which happen especially when you are new to a game. It would be such a shame to lose real money because you unknowingly pressed a wrong button.
However, please note that many casinos up the return to player percentage on games during the play for free mode. Therefore, you might be winning more frequently in play for free modes and falsely get the impression that the game will pay so well when you play it for real money too. Therefore, you should always keep in mind that you might not hit winning combinations as often in real game mode as you do in play for fun mode.
Furthermore, Dr. Winmore slot has been developed using technologies such as HTML5 and Flash, which makes the game responsive and instant–play friendly. You can play this game without having to download any application or software onto your device. Just open up your internet browser, go to the casino website, select the Dr. Winmore slot, and the game will load within the internet browser itself – this is called an instant play game. This holds true for computers, laptops and even mobile devices such as tablets and smartphones. Irrespective of whether you have an iOS phone, an Android phone or a Windows phone, you can play Dr. Winmore slot as it supports all of these mobile devices and mobile operating systems.
1
R11, 500 Welcome Bonus
+ R500 Free No Deposit Bonus
2
200% Signup & 100% Cash Back Bonuses
+ R400 Free No Deposit Bonus
3
200% Bonus & 50 Spins
+ R350 Free No Deposit Bonus
HOW TO PLAY DR. WINMORE SLOT
Dr. Winmore is a 5×5 reel that runs on a cluster pays system. This means that every time you line up at least four or more symbols, you will hit a winning combination. When it comes to bonus rounds, Dr. Winmore slot features wild symbols, multipliers, and when these two features are combined, it makes for a low – risk game if you know how to strategically employ the bonus rounds and increase your odds of winning or at least – not losing.
The top jackpot you can hit is pretty impressive, it can go up to 300 times the stake you have. So for example, if you bet $10 and hit the highest prize when you spin the reels, your winnings or return will be 300 times $10 which is $3000.
DR. WINMORE FEATURES
The Cluster Pays system is one of the most traditionally used payment systems in most online slots. Diagonal winning combinations are not a thing in such slots, the matching symbols need to appear in either a row or a column only and without break to make a winning combination. Once you do get a winning combination, how much you win will depend on the exact number and type of symbol that has matched.
The wild symbol in this game is the symbol of Dr. Winmore himself. The wild can basically be used to either form or make a winning combination even higher paying. The wild can basically be used as a substitute for other symbols.
Another feature of the game is the cascading reels that are initiated every time a cluster forms. What this does is it gets rid of the symbols in the cluster and introduces new ones which can then lead to cascading wins. This makes it a welcome addition for punters. Every time a cascading reel is triggered, the multiplier also kicks in and makes the consecutive wins more lucrative. The multiplier can go up to 6x the and stays at that level until that particular paid spin is completed.
PROGRESSIVE JACKPOTS
Progressive jackpots are games where the stakes people wager keep accumulating and the pool keeps growing with every bet made that is until one person hits the jackpot and walks away with the whole pool which can go well into the millions. Please note that Dr. Winmore is not a progressive jackpot, it is a straight forward slot and the pool is not an accumulation of prior wagers. However, there are multipliers which can go up to 6 times and that can mean big wins.
VERDICT
Dr. Winmore slot has to be one of the most interesting new releases we have seen. Granted it is still very early in the year, we still think this could be one of the best releases of the year in terms of themed slots. It is a solid 5-reel theme with all the bonus features and symbols one could ask for, but what really makes it stand apart and attract players is its unique 'mad scientist' theme which is dark and twisted but just so much fun!