Batman and The Batgirl Bonanza | Enjoy Free Spins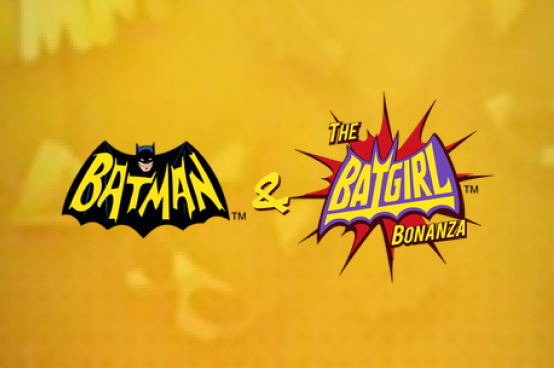 RTP: 96%
Provider: Playtech
Volatility: Medium
Freespins: Yes
Jackpots: No
Paylines: 60
Number of Reels: 5
Batman and The Batgirl Bonanza Slot Summary
Taking a break from chasing various villains across Gotham, this time it is all about Batman and his sidekicks as they prepare for the inevitable. Apart from Batman and Robin, which we have seen in each game so far, in this one we are joined by Batgirl, who had various depictions through her life as a character with varying degrees of success. In this 2016 release however, we quite like her. Much like before, the slot changes things up, offering 5 reels and 60 paylines, but splitting the reels into a 2-2-4-4-4 format, which brings some interesting gameplay changes. The bonuses are all based around the three heroes working together to bring you a profit – so feel free to play mix and match with your favourites.
PLAY BATMAN AND THE BATGIRL BONANZA SLOT FOR FREE (NO DOWNLOAD & NO DEPOSIT NEEDED!)
Play Batman and The Batgirl Bonanza slot game for free, right here on our website (No Download Necessary & No Deposit Needed). Increase or decrease your bet and change the number of lines. When you're ready, hit the "Spin Button". Enjoy!
1
200% Signup & 100% Cash Back Bonuses
+ R400 Free No Deposit Bonus
2
R375 Free No Deposit Bonus
+ R24,000 Welcome Bonus
3
100% up to R4000
+ 200 Free Spins
How to Play
Batman and the Batgirl Bonanza offers 60 fixed paylines, and allows you to bet between R3 up to R300 by adjusting your total bet up and down. The range isn't as wide as certain other games in the series, but it makes up for it with the odd structure of its playing field which can change things up quite nicely and provide a much needed shakeup from the standard 25 reels gameplay. The various combined superhero icons work out nicely here, as they can ensure you get re-spins or free games if you get lucky. It has a higher RTP than the rest in the series, sitting as a comfortable 96%, and the 0.99% of your spin contributes to the progressive jackpot increasing. As always, the fixed wins can reach high, but drop off substantially and tend to be quite rare, making the focus for any profit orientated player to chase the bonuses or the progressive jackpot that the game offers.
Special Features
Making use of the 2-2-4-4-4 layout of the reels, Playtech's release plays it up to make the difference stand out, rather than be a cosmetic change. The first two reels are smaller, and you activate both special features through them. The first is based around re-spins, and locking the smaller end of the playing field. To do this, you need four matching icons on the first two reels. Both full symbols, co-op symbols which have two heroes on them, and Wilds can activate this. It rewards five re-spins while the icons lock into place, while the last three reels keep spinning. This provided us decent value for money, equalling to about an x50 increase.
The second bonus becomes active when the Bonus symbol appears on the third, fourth and fifth reel. Depending on how lucky you get matching the heroes at the start, you can get between 12 to 25 free spins. Beyond this amazing reward, the first two reels combine into a single 2×2 reel which brings out even more money. We quite liked how this one worked out, even if our wins weren't always that great, but that is the luck of the draw. We found it quite fun how co-op icons managed to save us in a pinch here and there, and the single 2×2 reel for the duration of the special feature was certainly a blessing when it came to counting up the wins.
Verdict
Add everything up, and it is quite a well done slot. It keeps the fun 60s theme which had us snickering at each win due to how the characters look and behave, the progressive jackpots are still as elusive and enticing as they ever were, and the changes they made truly make it stand out compared to the other games in the series. We quite liked how this partnership between Warner and Playtech turned out, as it shows licensed slots don't always have to be lame and carry things on brand recognition alone. It keeps the strengths and doesn't do much about the faults. If you aren't a fan of medium to high volatility games, or if you prefer smaller wins that come often over big wins spread apart, none of them are really that great to meet demand. The fact it has four progressive jackpots and it is random which one you pick out can still sting if you get the smallest one, and it still holds special features as the big fixed jackpots most of the time. Regardless, we loved the series, and we're more than comfortable recommending it to you. Our rating: 89/100