Sparky 7 Slot Review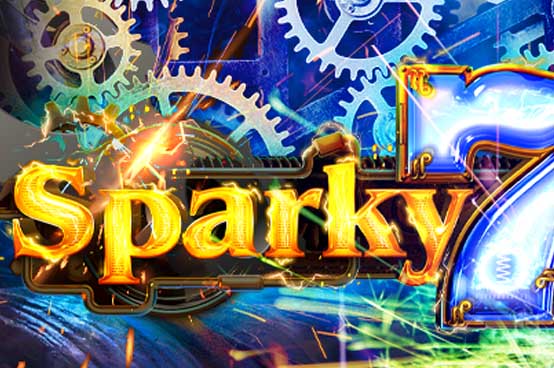 RTP: 96%
Provider: RTG slots
Volatility: Medium
Freespins: Yes
Jackpots: No
Paylines: 5
Number of Reels: 3
Say hello to Realtime Gaming's latest 3-reel slot – Sparky 7s. This is a fantastic new online slot that's an ode to minimalist classic slots. It has been developed using a fine blend of modern technologies with retro charm. Players who like quick paced slot games with straightforward rules and a good return to player percentage may find that Sparky 7s is their new favorite slot.
With just 3 reels and 3 rows, the reel set appears large and easily visible even on smaller smartphones. The electric theme is accentuated by gleaming symbols and an interesting backdrop that looks like something you would see in a modern factory or production unit. The symbols are straight out of an old-time classic slot, you have 7s in various colors, bar symbols, wilds and scatters. There are only 5 paylines which makes comprehending the game easy. The control panel or user interface of this game is self-explanatory – there are not too many configurations and only the necessary options have been provided.
There are three bet value options – $0.50, $1 and $5 (approximately ZAR 7.50, ZAR 15 and ZAR 75 respectively).The game features a normal mode and a turbo mode. Compared to most new-age slot games, the tempo is fast and if you turn on the turbo mode, things get really quick and snappy. This high tempo is complemented perfectly with an upbeat and anticipatory music track in the background. There is also an auto play option which allows players to automate a certain number of spins without having to manually click play each time. Once auto play is triggered, it can be suspended at any time by the player or it will come to an end after the preset number of spins have been played automatically.
Playing this game is very much like playing 3-reel classic slots from the 50s-80s except for the special features and bonus rounds which constitute the modern face of Spark 7 slot.
This is a high variance slot. Essentially, the wins don't come very often when compared to low or average variance slots, but when they do come, they are substantial. Players with a moderately flexible budget and who don't mind taking risks just to win big will find this game to be their cup of tea. How much money you may win while playing any slot game is completely based on luck and chance.
Theoretically speaking, Sparky 7 slot has a return to player percentage of 96% which is slightly above average for 3-reel slot games. So, we can categorize it as a high paying slot. Basically, for every $100 wagered on this slot, it will pay back $96 over time. On paper, the maximum you can win in a single spin while playing Sparky 7 slot is 50,000 times your total stake amount. Since the maximum allowed stake in US Dollars is $5 (approx R75), the maximum win you can possibly bag is $5×50,000 = $250,000 (approx 3,716,050. A quarter of a million dollars is not bad for a slot without a progressive jackpot.
Play Sparky 7 For Free (No Download & No Deposit Needed)
Sparky 7 supports free play which is also known as demo mode or 'play for fun' mode. During the free play mode, you get a 'fun balance' of $1000 to play with. Any wins or losses during free play mode does not have any monetary implications in the real world. As the name suggests, it is just for fun and you cannot win or lose actual money in this type of game play.
The free play mode is recommended for players who are new to this game since it allows them to try the game and figure out the details, controls, bonus rounds, paylines and everything else without risking real money while still on the learning curve, albeit it is a very flat learning curve.
Thanks to the demo mode, anyone can try Sparky 7s without even having to deposit a single penny of their own money. Playing in free play mode is a great way to determine if the game is something you wish to invest in or not.
Sparky 7, being a 2021 slot, is developed using technologies such as HTML5 and JavaScript. This allows the game to be rendered from within web browsers on both PCs and mobiles. Therefore, you can access the game and play it right in any browser (Google Chrome, Safari, Firefox, etc.). You don't have to download any app or software just to play this game. This not only saves your data costs since there is no download involved, but also saves your local disk memory on your PC or mobile.
1
R11, 500 Welcome Bonus
+ R500 Free No Deposit Bonus
2
200% Bonus & 50 Spins
+ R350 Free No Deposit Bonus
3
200% Signup & 100% Cash Back Bonuses
+ R400 Free No Deposit Bonus
How to Play Sparky 7
Playing Sparky 7 is easy and hassle free. Players with any prior experience playing slot games at online casinos will be able to play Sparky 7s with zero guidance or instructions. As mentioned, the game is played within a web browser and there's no special software required. Sparky 7s is available at several leading online casinos and you can play at any such casino of your choice.
To get started playing, visit your preferred online casino website and login to your casino account. If you don't have an account already, you can register for one in a few short moments by completing the registration form. Once you have accessed your online casino account, you can search for the Sparky 7s game within the casino's game library by typing into the search bar.
Click on the Sparky 7s thumbnail and we would recommend using the 'free play' option for first time players. The game flash screen will appear on your screen and the game loads up fairly quickly. Once the music starts playing, you know that the game is loaded and ready to spin. If you wish, you can mute the music by going into the settings menu.
Before spinning the reels, we would recommend clicking on the 'i' (info) button. This will pull up the game rules and show you the payline diagrams. The rules are concise and simple, you can read through the rules and how the special features work within a couple of minutes. Now, you can come back to the game screen and adjust your bet value to your liking using the – and + buttons. Once you have the bet amount set, you can click on the play button at the center to get the reels spinning. Your total balance, bet amount and any win for that spin is displayed throughout the game play.
All in all, this is a really easy game to play and will be second nature to anyone who has played slot games online before.
Sparky 7 Features
Wilds
The wild symbol in this game is pretty unmissable since it is denoted by a sizable 'W'. The wild symbol basically has the same functionality as a joker card in a deck of cards. It can be substituted for any other symbol (except for the scatter) in order to make a winning combination when you are missing a combination by just one symbol and have a wild instead. During the transferring symbol special feature, the wild can only substitute a 7s symbol.
Free Games
The free games special feature is the most exciting and high paying bonus round within this game. Free games are triggered when at least 3 scatter symbols land on the reels at the same time at the end of a spin. The scatter symbols do not necessarily have to land according to one of the 5 paylines, they can simply land anywhere is in order or formation. When this happens, 7 free games are rewarded. The free games are executed automatically and the player will simply just be a viewer during this bonus round. The transferring symbols feature may be triggered during the free spins round too.
All wins during the free games are multiplied as per the multiplier awarded. Free spins games come to an end after all free spins are completed or when the maximum win has been reached. Once the round ends, a banner will display the total amount of winnings made from the free games round. There is no limit to how many times this feature can be re-triggered in a session.
Transferring symbols
If two 7 symbols land on an active payline and the third spot on the payline is a blank, the transferring symbol feature will kick in and a random symbol will appear onto the third spot which increases the chances of a winning combination.
Progressive Jackpots
Sparky 7 does no feature a progressive jackpot. The max win possible is 50,000x your line bet.
Verdict
Sparky 7is a 3-reel classic slot which embraces the retro and couples it with modern technological excellence. The 3×3 reel format is perfect for mobile game play. The simplicity of the rules and paylines appeals to most players and the fast tempo makes the game exciting with never a dull moment in between. Highly recommended slot well suited for players that like high variance games.