Pet Master Game Review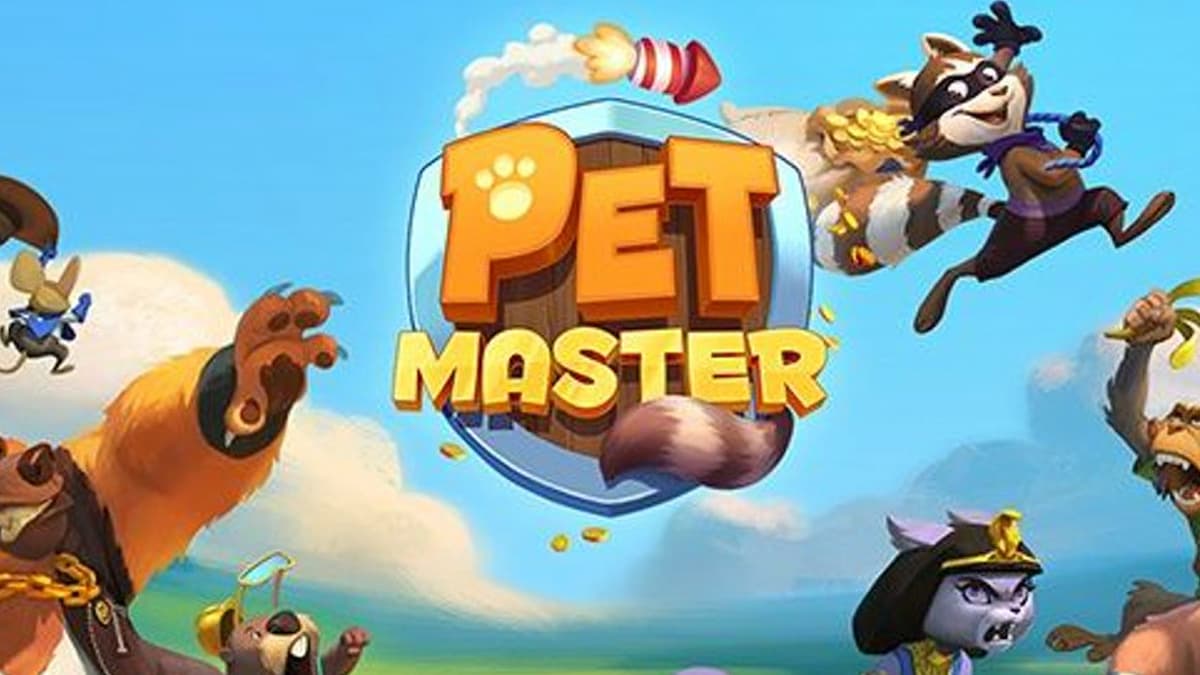 RTP: 0%
Provider: Moon Active
Volatility: Low
Freespins: No
Jackpots: No
Paylines:
Number of Reels:
Pet Master is the second installment of the much popular Coin Master from Israel-based studio Moon Active. It is a mobile app that you can download for free from the Google Play Store. Pet Master's Viking theme and game play is almost the same as in Coin Master. The difference is that there are more levels and more villages to build, upgrade, and plunder.
The game puts a lot of emphasis on domesticated animals. All the villages are themed and named after pets, both conventional and rare. The game revolves around the slot machine, which governs your game play. You get free spins from various sources, including through links at affiliate sites. The slot machine gives you coins and other tools with which to build and attack villages.
Pet Master Overview and Theme
Pet Master is also a casual game to be played with friends on social media. You play the game solely for entertainment. You do not win any money. In fact, you will end up spending money to buy stuff from the in-app store to progress in the game. You get limited-time offers for spins, coins, shields, and other tools, which you need in order to protect and upgrade your villages or attack others' settlements.
The villages cover a wide geography. One day you may be upgrading your settlement in Hawaii, and the next day you could end up raiding a village in the Balkans. This means that the play can be prolonged for weeks or even months. You start off with 50 free spins, and get 5 more spins every hour. You collect spins even while you sleep, and you can start the day with your full free quota of free spins.
Citizen pets play an important role in the game. Once you build a village, you need to upgrade it until it reaches a 5-star rating. Pets can greatly assist you in building, upgrading, and attacking. When they do, you get rewards in the game. These can be resources with which you can reach higher levels. The more people play, the more they purchase, and thereby make money for the studio.
Pet Master Features
As is often the case with sequels, Pet Master is better than its predecessor. There are more levels with multiple features that are revealed at various stages. Hence, it's difficult to note or describe them in this review. But the game can be broadly defined by the main mechanisms:
The Slot Machine
The slot machine is the main element of the game. The combinations on the reels decide your progress in the game. The symbols on the reels tell you what to do next. The combination of symbols also provides the resources to play the game. The 'energy' symbol gives you more free spins. You can use extra spins to accomplish more tasks and rise through the levels. Other symbols include coins, a racoon bandit, rockets, sets of rockets, and shields.
The Social Aspect
When you install Pet Master and load it, you are asked whether you will play alone or on Facebook. You are encouraged to invite your friends and play against them. You are rewarded when your friends accept your challenge. When you get rockets on the reels, you can attack your friends' villages, or protect your own villages with shields. You will be notified when your friends attack your villages, so you can take revenge. When you do, the game rewards you with more resources.
In-Game Store
The in-game store offers various resources and tools with which to accomplish various tasks. You can buy spins, virtual coins, chests, and other tools that may or may not be featured on the reels, but are evasive. The chest gives out cards with the star rating for your structures. Apart from other tools, you can also buy pet snacks, Pet XP, or more spins.
How to Play Pet Master
As stated, the slot machine is the pivot around which the game revolves. You take action according to the symbols and their combinations on the spinning reels. The best way to get started is to thoroughly read the rules and game play.
Your main objective in the game is to build villages, increase their star rating, and protect them. Every player can build up to 180 villages at various levels, which may increase in the future. Each village has its own price in terms of the coins needed. To a certain extent, you can protect your villages with shields, which you get from the reels.
Another important aspect of the game is attacking and raiding the villages of other players. There is a difference between raiding and attacking. You collect rewards according to the scale of destruction you cause. Again, your pets are your generals, with whom you fight your battles.
Here are the main aspects of the game.
Virtual Coins
When any reel contains the Bag of Gold, you win virtual coins, with which you can buy villages and upgrade them. You get more coins with a combination of coins on the centre reel, than you do with a single bag of coins on different spins, most of which are the symbols on the reels.
Rockets
Rockets come as single missiles or in packs of three. If you get single missiles on the centre row, this is your cue and tool to attack other players' settlements. You can launch an attack to hit one of the enemy buildings or pets. When a structure is hit, it reduces its star rating. This way you slow down the progress of your opponents and rise to higher levels faster.
If you get three rocket symbols on the middle row, you can initiate a mega attack on a particular player's village, or a random settlement. You can launch three rockets instead of one. If your enemies do not have three or more shields, you can overcome their defenses. You can cause widespread destruction, which substantially reverses the progress of your enemies.
The Raccoon Bandit
This is the game's mascot. When you get three raccoon bandit symbols on the middle row, you get to initiate a raid against the sitting Pet Master. This is where the game gets its name. The scene shifts to the village of the Pet Master. You can identify the village at the top of the slot screen.
You will come across three safes in the settlement, and can open just one of them. You may reveal a wooden chest, more spins, or a treasure. The safe can be empty too. What you really want is the treasure. There are more chances of getting it when you raid the village another time.
Shields
You can use shields to protect your buildings from attacks. You can get them if you get the shield symbol on the reels. To start with, you get three shields, which can protect your buildings from three attacks, or one mega attack. If your buildings have shields when they are attacked, you will lose the shield, but your structure will remain intact, along with its star rating. This also applies when you attack.
More shields come at higher levels. You can only get five shields per settlement, but these can increase as you get more involved with the game.
Betting
When you use more than one spin at the same time, you bet. This will not enhance the effect of the result, but it will multiply the rewards of the action you take. For example, if you use 5 spins at once, you can only fire 3 rockets at once, but the number of coins rewarded is multiplied by 5.
The same logic prevails when raiding. You must start betting, or using more spins than needed, only after you have opened at least one empty safe in a raid. This gives you a one-on-one chance of finding treasure in your next raid. If there's only one remaining safe, betting more coins increases your odds if the Pet Master has more coins to protect his village.
Play Pet Master in Demo Mode for Free
Pet Master cannot be played in demo mode, and there is no need. You don't win real money in the game. You need to know how the game is played, and you must read the rules of the game, and what you have to do. The game will prompt you on the actions you must take.
Where to Play Pet Master
Pet Master is actually a mobile app, which can be downloaded for free from the Google Play Store.
Tips to Win at Pet Master
Since the master feature of the game is the slot machine, Pet Master becomes purely a game of chance. You must get as many spins as you can. You get five free spins every hour. You can also download spins from various affiliate websites, or in the worst-case scenario, you can buy them from the store. You would do well to space out your gaming sessions.
Our Verdict on Pet Master
Pet Master is played on various levels, which prolongs gameplay indefinitely. The game uses the Viking theme, which is extremely popular. The multi-dimensional game can be extremely challenging and entertaining, as it gets you more and more engaged.
The social gaming aspect is profitable for the studio, but it can be exciting to play in public with your friends. The game is intuitive. It offers resources from the store, with enticing packages, but this is based on your playing patterns and involvement. You are bombarded with offers. This, in our opinion, is a more human side of the game.
Can I Play Pet Master on Mobile?
Pet Master is designed for playing on the go. It is a mobile app that you can download for free, on practically any mobile device.
Is Pet Master a Game of Chance or Skill?
Pet Master is primarily a game of chance, because it involves a slot machine. Everything depends on the symbols you get on the reels. Your progress depends somewhat on how smartly you play the game, and manage the resources, like spins, coins, and chests.
How to Win at Pet Master?
You cannot win real money with Pet Master. If you are playing for entertainment, be prepared for a prolonged struggle, and focus on getting as many resources as you can.