Crazy Time: Live Game Show Review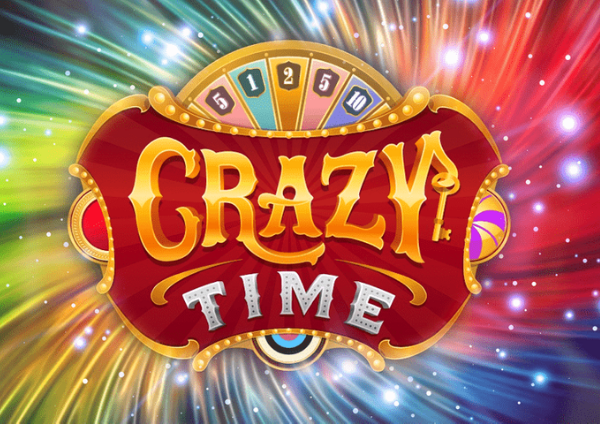 RTP: 96.08%
Provider: Evolution Gaming
Volatility: Medium
Freespins: Yes
Jackpots: No
Paylines:
Number of Reels: 2
Are you ready for one of the most thrilling and fun online gambling games ever? Introducing Crazy Time, the live game that will blow your mind with its amazing features and prizes! Crazy Time isn't just a game; it's hosted in a live studio with an energetic presenter. They spin a gigantic wheel with 54 segments offering different choices to bet on. The live chat feature lets you interact with the presenter and other players. Presenters will greet you, cheer you on, and make you laugh with their jokes and stories.
Where Can I Play Crazy Time Online In South Africa?
1
Free Bet up to 150% on the First Deposit
+ First Day Stake 25% Return
Pros
The minimum bet is R1

The presenters are engaging and professional

You can win up to R5,000,000!

Live chat feature
Cons
A bit difficult to understand for first-time player (but we're here to show you the way)

No real strategy if you like that type of game (but that's what makes it so fun and unpredictable, you never know what will happen next and how much you can win)

The bonus games bets have high volatility
Crazy Time might not be for everyone, but it's a game for those who dare to take risks and enjoy the ride.
How Does Crazy Time Work?
Crazy Time offers you the chance to win big at real money casinos with bonus multipliers and different bonus games. You can play Pachinko, Cash Hunt, Coin Flip, or Crazy Time and win up to 20,000x your bet! Each bonus game has its own unique twist, providing players hours of entertainment. Crazy Time is the ultimate online gambling experience that will keep you on the edge of your seat.
The goal of the game is simple: predict where the wheel will stop. You can bet on any of the numbers: 1, 2, 5 or 10. Or you can bet on one of the bonus games and get ready for some crazy action. You can bet on any number and/or any bonus game. The choice is yours!
These are the number of segments for each bet. Take this, the RTP and the payouts into consideration before placing a bet:
1: 21 segments

2: 13 segments

5: 7 segments

10: 10 segments

Pachinko: 2 segment

Cash Hunt: 2 segments

Coin Flip: 4 segments

Crazy Time: 1 segment
In addition, there is a mini 2 reel slot machine! This amazing feature can boost your bonus in a round if you match the same number or bonus game that is being played. You could win a huge multiplier that will make your winnings soar!
If the wheel stops at one of the four games, you'll get to see the presenter play it live on your screen. And if you bet on it, you'll get to join in on the fun and excitement.
How Do You Play Crazy Time Online?
Main Game
All you have to do is place a bet on one of the numbers: 1, 2, 5 or 10. The number 1 is the most frequent one, so it's the safest bet, but it also pays the least: 1:1. If you want to spice things up, you can bet on the other numbers and win more money. You can use the game history to see which numbers have been coming out more often and make your best guess.
Pachinko
The Pachinko bonus game is all about multipliers and luck. You'll see a wall with 16 multipliers at the bottom. The host or hostess will go to the top of the wall and drop a shiny puck. Watch it bounce and slide until it lands on one of the multipliers. That's how much you'll win!
If the mini reel also has a multiplier on Pachinko, then you'll get an even bigger prize.
There's also a chance that the puck will land on the word DOUBLE. That means you'll get another chance to drop the puck and multiply your winnings even more. Don't miss this opportunity to win big with Pachinko!
Cash Hunt
The Cash Hunt game displays an electronic wall with 108 multipliers, they will scramble them and put an icon on top. If you had bet on this game, you will be able to shoot at one of the icons. After a few seconds, the icons will disappear, so you will be able to see what multiplier you got.
Crazy Time
When the Crazy Time bonus game happens, the presenter goes through a door that leads to a huge electronic wheel with extra segments and 3 flappers: one blue, one green and one yellow. If you have placed a bet on this game, you choose a colour and get the multiplier that the flapper with that colour gets. Again, if the mini reel game also showed Crazy Time, you also get your winnings multiplied once again… It really is crazy!
Coin Flip:
Like heads and tails, a coin with 2 multipliers will be flipped. When betting on this game, you can pick a side (red or blue) and you will have a guaranteed bonus.
To place a bet, your balance (in the form of casino chips) can be put on a CGI table on any number and/or bonus game. You will see a timer that will let you know how long you have. There are also a double up, a x2 and undo buttons. There is also an Autoplay button, which you can leave on or choose the number of rounds you want to keep it on for.
Screen icons:
In the bottom right corner, you have the last winning results (for those who want to try to play more strategically).
On the top right you will find some other icons including:
Chat

Responsible gaming

Switch view

Sound

Settings

Game history

How to play

Full screen/exit full screen
Tracksino – Crazy Time Stats & Results
Want to play Crazy Time like a pro? Then you need to check out Tracksino, the ultimate online tool for Crazy Time statistics and analysis. Tracksino lets you see the stats on Crazy Time in real time, so you can make informed decisions and level up the excitement. Here are some of the features that Tracksino offers:
You can review the amount of times each betting option has come out in the last 24 hours, so you can see which ones are hot and which ones are cold.

You can see the best outcome of the day, the lucky winners and their amazing payouts.

You can see the current presenter, get to know them better and interact with them through the chat feature.

You can also see all the statistics of the bonus games, such as the average multiplier, the highest multiplier, and the frequency of each game.
Tracksino is the best way to enhance your Crazy Time experience and learn from the experts. You can also compare your results with other players and see how you rank on the leaderboard. Tracksino is free to use and easy to access, just visit www.tracksino.com/crazytime and start exploring. We highly recommend using Tracksino to enhance your gaming experience!
Crazy Time Payouts
Crazy Time RTP
Crazy Time Tips & Strategies
Want to know how to win big at Crazy Time? Then listen up, because we have some tips for you! Gambling is mostly about luck, but there are some strategies you can use to try to increase your chances of winning. When the team at OnlineCasinosOnline played Crazy Time, we had a plan: we bet R50 at a time and split those bets in 3, 2 of R20 and one of R10. We played 10 rounds with our R500 pool and this is what happened:
In 5 of the 10 rounds, we didn't get any prize

We got number 1 once, we had bet R10, so we got that back

We got number 2 twice, we had bet R20, so we got R40 each time

We got number 10 twice, the odds are 10:1, so we got R200 each time.
All in all, we played R500, and got R490 back. Although we didn't make a profit, we basically got our money back. We were a bit unfortunate as we bet on bonus games in every round and unlucky for us, the wheel didn't stop once on those. However, we continued watching the game for fun and saw an amazing x200 multiplier land at Cash Hunt, if only…
Our tip to you would be to spread your bets and play at least one bonus game each round. We also took previous results into consideration to try to make better betting decisions.
Our Verdict of Crazy Time
We had a blast playing Crazy Time! It was a new and enjoyable experience for our team. It took us some time to learn the rules and mechanics, but there was no stopping us once we got the hang of it. The hosts really help elevate the game. They were very friendly, engaging and, dare we say attractive too. We also liked the fact that you could play more strategically too to try to improve your odds of winning. Overall, this game surprised us and we were totally engrossed in the live action. Crazy Time made our list of top casino games you should try at least once.
What is the minimum and maximum bet I can place?
The minimum bet you can place is R1, and the maximum bet is R10,000.
Can you win real money on Crazy Time?
Yes, the maximum you can win with Crazy Time is R5,000,000. With bets as low as R1, anyone can get in on the action.
What is Crazy Time's RTP (Return to Player)?
The RTP for Crazy Time ranges between 94.3% to 96%.
How do I place a bet on Crazy Time?
You place your bet by placing your digital casino chips on any number and/or bonus game. You will see a timer indicating how much time you have to place your bets. An Autoplay option is also available if you wish to keep your bets consistent for a number of rounds.
Does Crazy Time have any bonus games?
Yes, Crazy Time offers four bonus games: Pachinko, Cash Hunt, Coin Flip, and Crazy Time. Each bonus game has unique features, offering different multipliers and opportunities to win big.
What is the hit frequency?
The hit frequency for Crazy Time is 38.89%.
What is Tracksino?
Tracksino is an online tool offering real-time statistics and analysis for Crazy Time and other games. It is free to use and can help you make more strategic betting decisions.
Where can I play Crazy Time online in South Africa?
We recommend playing Crazy time at Betway.co.za, Bet.co.za and Yesplay.co.za
Any tips or strategies for playing Crazy Time?
Absolutely, while gambling is primarily about luck, you can consider spreading your bets and playing at least one bonus game each round. Observing previous results may also help you make better betting decisions.