Age of the Gods: Fate Sisters | Enjoy Free Spins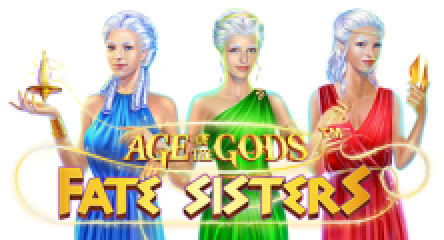 RTP: 92.95%
Provider: Playtech
Volatility: Medium
Freespins: Yes
Jackpots: No
Paylines: 25
Number of Reels: 5
Age of The Gods Fate Sisters Slot Summary
We felt quite good coming into this one. Age of the Gods have been slots that rarely disappoint, and Playtech continues this trend with Fate Sisters spectacularly. If it seems familiar, it should – it was designed as a replacement for the now defunct Iron Man 3 game that was done in partnership with Marvel, who decided to back out and pull all the joint releases along with them. Rather than just shrug their shoulders, the developers sprung into action to bring them back with a new theme, and now we have a new 5 reel, 25 payline slot to play with based around Greek mythology which embraces progressive jackpots, different lucrative special features, and a fun theme that keeps things varied while we enjoy the well done visuals.
PLAY AGE OF THE GODS FATE SISTERS SLOT FOR FREE (NO DOWNLOAD & NO DEPOSIT NEEDED!)
Play Age of the Gods: Fate Sisters slot game for free, right here on our website (No Download Necessary & No Deposit Needed). Increase or decrease your bet and change the number of lines. When you're ready, hit the "Spin Button". Enjoy!
1
200% Signup & 100% Cash Back Bonuses
+ R400 Free No Deposit Bonus
2
R375 Free No Deposit Bonus
+ R24,000 Welcome Bonus
3
100% up to R4000
+ 200 Free Spins
How to Play
Age of the Gods: Fate Sisters has 25 flexible paylines players can turn on and off at a whim along with a line bet that lets players adjust their wager between R0.1 up to R25,000. That said, the lower amount of paylines doesn't help you much at all, especially not in a game like this. As such, your real minimum will usually sit at R2.5, which isn't too bad for casual players while allowing more serious gamblers to set higher amounts for themselves. The slot doesn't have that many interesting wins you can carry off during normal gameplay. Beyond the five-of-a-kind Wild, they can be average if a little bit below, which makes sense due to the progressive jackpot being involved. But this isn't that unexpected, as Playtech always liked to keep big wins to special features, and they have done just that in this game, along with the progressive jackpot ticking in the corner.
Special Features
Three Scatters in a row takes you away from the boring plane of humans, through a portal to the temples of the three weavers of fate. In this slot, you make a choice between Atropos, Lachesis or Clotho, and each of them offers a different amount of free spins and a unique boon to make you pick them over the other.
Atropos is the woman dressed in red, and she offers 15 extra turns and a dynamic multiplier to her followers. Each of your games starts with a random multiplier between a x2 and a x5 increase, and how high or low it gets depends on the Goddess herself. Her mere presence on the first, second, fourth and fifth reel inspires and raises your multiplier up to a maximum of five, but if she does not appear, then your multiplier drops to a minimum of x2. If she appears on the third reel, she grants three more spins.
Lachesis is garbed in green, and grants 10 free turns and locking Wilds to her worshippers. Each time a Wild appears, the Goddess will pin it to the reels, making that spot keep its Wild status for three more turns. If a Scatter appears behind a locked Wild, it will pay according to the paytable. And like with Atropos, Lachesis awards three more extra turns if she lands on the third reel.
Finally, we have Clotho, the woman dressed in the blue robe. Her followers enjoy 8 free spins and random Wilds across the reels. More specifically, she places three random Wild spots with each spin, making the symbol that appears beneath it act like a Wild. If Clotho appears on the third reel, she rewards an additional 3 turns.
Verdict
It comes as no surprise this Playtech release caught our attention – it is just that great. The big appeal is that it doesn't make the fact it is a progressive jackpot weight it down from allowing some fun experiences and great wins to occur from time to time, as the bonuses it offers are very well done. We had best of lucks with Lachesis, who granted us a x65 win, and while we weren't able to score any of the four progressive jackpots, it doesn't stop us from hoping we just might one day. It keeps the known polish of the Age of the Gods series, and the choice of protagonists for this slot is top notch. Normal gameplay wins aren't as interesting, and the possibility of winning the smallest progressive jackpots are downers, but not enough to bring down the greatness of Fate Sisters. Our rating: 92/100